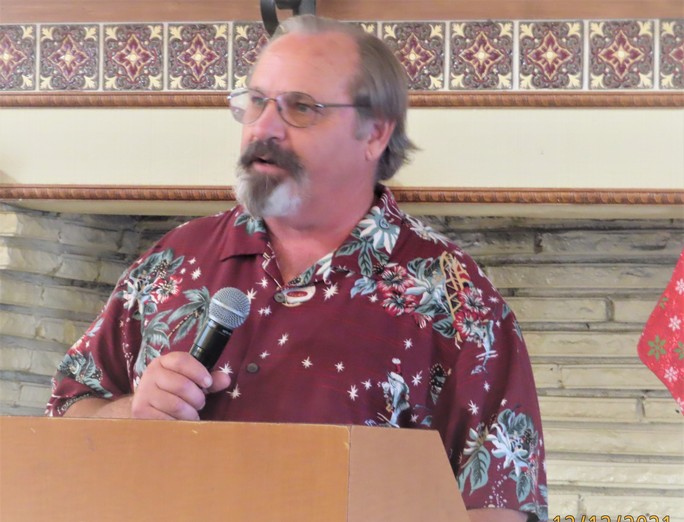 Tim O'Gorman
President's Message
December
Every year when December rolls around I say where did the year go. So far this year I have procrastinated on my 2023 New Year's resolution to lose 25 pounds. That was just one pound every two weeks, easy to do, Riiiight. At this point I have just over six weeks to make it. Well possibly I'll do it in 24'.
November 11th, we had a great time at Dave Seiler's Wheel Shop getting a demonstration on how T wood wheels are cut shaped and restored. We are very fortunate to have an artisan like Dave Seiler in our area. Then on the 12th Jeff Skinner and Chris Craig represented the Club at the Performance Plus Food Drive.
We are gearing up for the Christmas Party that promises to be a spectacular event. Jeff and Jane Hood are procuring all the prizes for the gift tables, and I have been assured they will be sensational.
As 2023 is heading into the rearview mirror, 2024 is coming at us head on. There will be a lot going on. This year we will be celebrating the 70th Anniversary of our Club. Bill Bahr has set up the tour calendar for the year and we will get it out ASAP so everyone will have the important dates well in advance. We will end the year with the Holiday Motor Excursion on December 31st and begin the year with the inspection tour and BBQ at Tom Leroux's shop on January 13th. Stay tuned for upcoming events!
PROGRAMS: We need help with programs for meetings. If you have knowledge on a subject, you know someone that does, you want to hear about a topic, or have information that you think would be of interest to the group, please let me or a board member know. We will do our best to find someone to fit the bill. If we don't get any suggestions, we can always compare knee replacement, high blood pressure medication and trips to the doctor.
Just a reminder that the San Diego National Tour is only taking 100 participants and the Signups are on January 2nd.
Respectfully Submitted
Tim O'Gorman