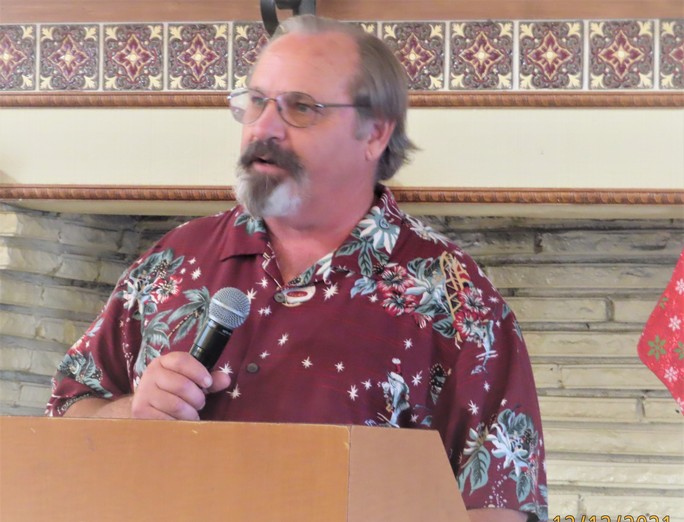 Tim O'Gorman
President's Message
June 2023
June is here, so buckle up and get ready for an active month. The Palos Verdes Open Doors Tour is shaping up to be a very cool experience. Fifteen people have signed up to participate. So stay tuned for details, they will be provided at the June meeting. Speaking of meetings, the Bring a Thing was successful. Gene Carrothers brought an automatic oiler that was very interesting, and Don Skille brought an early drive shaft bearing. Don had everyone stumped. So, if you have a gizmo that will stump the crowd, please bring it to the June meeting.

Jeff Hood has been tirelessly working on the Swap Meet and has numerous vendors. Please grab a bunch of flyers and get the word out there. Drop the flyers off at your favorite auto parts store. We have plenty of vendors, we need buyers. John Bowman is running around like a mad man working on the Huntington Beach Concours d' Elegance on June 4th. He also is working tirelessly on the October Tour to 29 Palms. Can't wait for that one, fun will be had by all.
June 18th is the Father's Day, Cornerstone Church Car Show and Breakfast (what we do best – EAT). Every year someone in the club walks away with a trophy from this show.

I want to remind all those fathers out there to get those catalogues out and circle those Father's Day present choices. Strategically leave those catalogues and Sears ads out, so there is no question as to whether you want a tie or a shiny, battery powered, three speed sideways ratchet. Finally, I want to thank Mike Neesham for his presentation on building his Town Car.

If anyone has an idea for a presentation, please let us know. Also, I want to thank Gene, Don, John B, Jeff H, Gary G, just to name a few. Their participation makes the club a fun place to be.
Respectfully Submitted
Tim O'Gorman