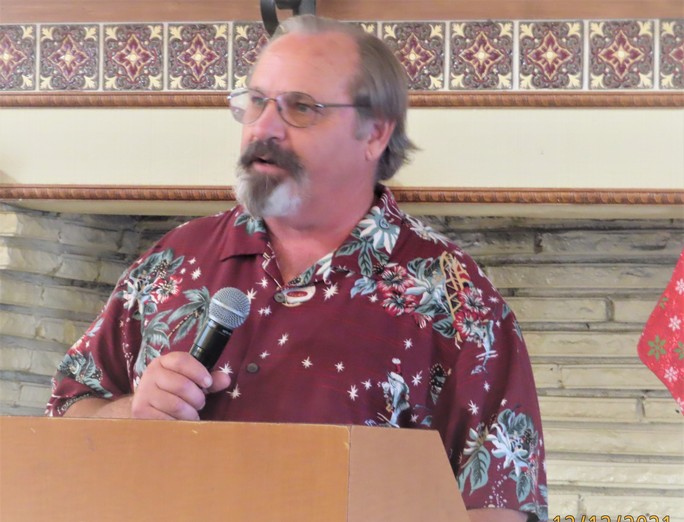 Tim O'Gorman
President's Message
October 2022
Well Happy October to all. We are getting toward the last quarter of the year with some great stuff ahead. First I need to say a great big thank you to Stan Lucas for gratuitously opening up his wonderful collection to our club. This is my
second time there and I am still awed by the cars. Several of the cars have a storied history that has been long forgotten, but we were able to see them. I specifically point to one vehicle owned by a president and another owned by a starlet that died under suspicious conditions in the vehicle. What a wonderful adventure. Thanks again Stan.
The October Tour is also coming up quickly and John Bowman has set up a memorable event, The Movie Road Take Two Tour. It will include a drive up 395, a tour of Movie Road, The Manzanar internment camp and a stay at the historic Dow Villa Motel in Lone Pine. We may even need to sneak off to Schat's Bakery in Bishop.
The Christmas Party is also right around the corner so mark your calendars for December 11th. At $25 per person it is a great deal so make your reservations soon. See information on page 11. We are always looking for programs that would be of interest to the club members. It doesn't necessarily have to be about Model T's. The September meeting we had John Traw and Chris Craig talk about drones and radio controlled air planes. News to me is that they are all considered Unmanned Aerial Vehicles (UAV's). The talk was fascinating and piqued my interest in UAV's. I just might have to get a drone for my son for Christmas so he can teach me how to work it. Then I could borrow it for
tours.
Hope to see ya'll at the October 13th Meeting.
Respectfully Submitted
Tim O'Gorman